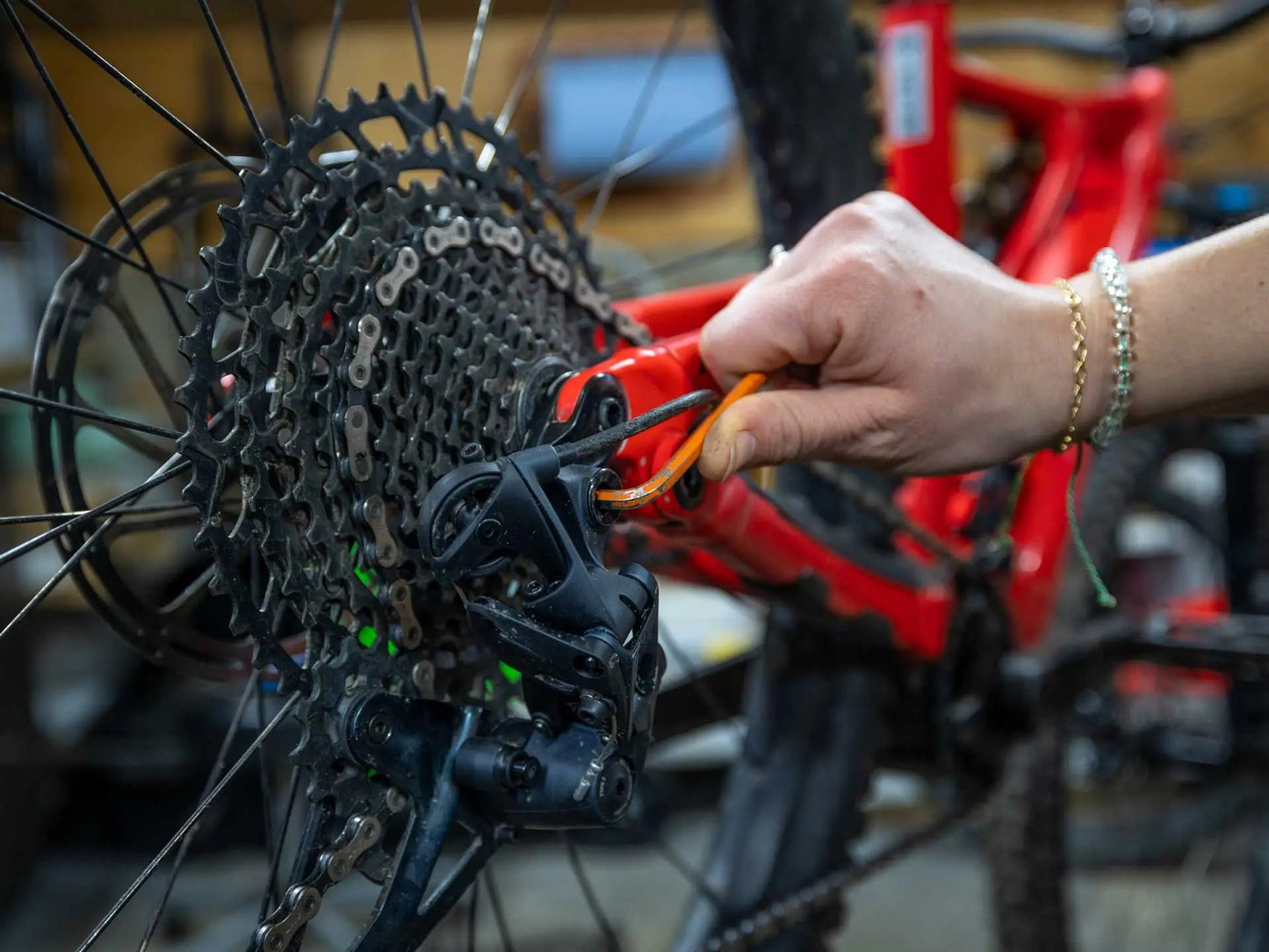 Owning a bicycle is not only a source of joy and freedom but also a responsibility to ensure its smooth operation and longevity. Regular maintenance and timely repairs are key to keeping your bike in top shape and avoiding unexpected breakdowns. In this blog post, the team at Chain Reaction Bicycles, in Gainesville Florida, will provide you with a comprehensive guide on bike maintenance and repair, equipping you with the knowledge and skills to tackle common issues and keep your two-wheeled companion running smoothly.
Keeping Your Bike Clean: Regular cleaning is the foundation of bike maintenance. Start by gently washing your bike with a mild detergent and water, paying attention to hard-to-reach areas. Don't forget to clean the drivetrain (chain, cassette, and chainrings) with a degreaser and a brush, and lubricate it afterward. Additionally, inspect and wipe down other components, such as brakes, derailleurs, and suspension systems.
Checking Tire Pressure and Condition: Proper tire pressure is crucial for optimal performance and safety. Use a reliable pressure gauge to check the tire pressure regularly, and inflate them according to the manufacturer's recommendations. Also, inspect the tires for signs of wear, cuts, or embedded debris, and replace them if necessary. Don't forget to check the tread depth and ensure it meets safety standards.
Lubricating Moving Parts: To maintain smooth and efficient operation, lubricate key moving parts regularly. Apply lubricant to the chain, derailleur pivots, brake and shift cables, and pedal threads. Remember to wipe off any excess lubricant to prevent attracting dirt and grime.
Inspecting and Adjusting Brakes: Your safety depends on reliable braking performance. Regularly inspect the brake pads for wear and replace them if they are too thin. Adjust the brake cable tension as needed to ensure proper braking response. Additionally, check the brake levers and calipers for any signs of damage or misalignment.
Gearing and Shifting Adjustments: Smooth and precise shifting enhances your riding experience. Inspect the condition of your gears and ensure they are properly aligned. Use barrel adjusters to fine-tune the shifting performance, and check cable tension for accurate gear changes.
Maintaining the Chain: The chain is a crucial component that requires regular care. Keep it clean and lubricated to minimize friction and wear. Use a chain wear gauge to assess its condition and replace it when it reaches the manufacturer's recommended wear limit.
Wheel Maintenance: Regularly inspect your wheels for any signs of damage, such as broken spokes or cracks in the rim. True the wheels if they are out of alignment, and check hub bearings for smooth rotation. If necessary, adjust the hub bearings or seek professional assistance.
Suspension System Care: For bikes equipped with suspension systems, follow manufacturer guidelines for maintenance and service intervals. Keep the suspension clean, regularly check air pressure or spring tension, and ensure proper rebound and compression damping settings.
Troubleshooting Common Issues: Be prepared to address common problems such as squeaky brakes, skipping gears, loose bolts, or creaking noises. Understand the underlying causes and learn how to adjust, tighten, or replace the affected components.
With proper bike maintenance and repair knowledge, you can extend the lifespan of your bicycle, enhance its performance, and enjoy a safe and comfortable riding experience. By following the tips provided in this comprehensive guide, you'll be equipped to tackle routine maintenance tasks, troubleshoot common issues, and know when to seek professional help. Remember, regular care and attention will keep your bike in excellent condition, ensuring many enjoyable miles on the road or trail ahead.
Happy riding!